HOW BAD DO YOU WANT IT?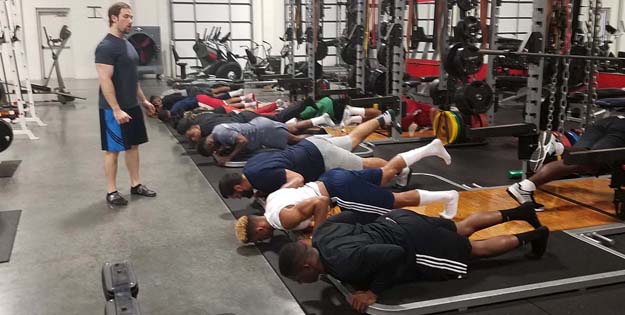 GSP has put together a team of elite professionals who are focused on the success of each athlete. The list includes: Position Coaches, Master Trainers, Orthopedic Doctors, Physical Therapist, Sports Chiropractor, Massage Therapist, Nutritional Diet Experts and Certified Chef. Each member of this professional team will impact the progress of the athlete.
GSP will identify the training tools necessary to reach your goals: proper understanding of dynamic warm-up, speed work, agility/change of direction, position technique, combine drills preparation, film knowledge and breakdown, strength and conditioning, nutrition and diet plan, customized supplementation program, athletic recovery and pre-hab procedures.
GSP will have ongoing communication with all athletes and agents to keep them updated on progress and share baseline testing as well as retest results. GSP may be retained to keep each athlete ready for tryouts after Pro Day/Combine has been completed.
GSP will assist each player in transitioning from Combine/Event Training to season readiness.
Our Program Directors will counsel similar to a team NFL camp experience. Our focus will be on understanding the team dynamics of an NFL roster while continuing emphasis in these key areas:
• Pretesting Baseline Starting Point
• Supplementation Outline
• Nutrition Outline
• Film Study
• Position Work
• Regular Weigh-Ins I Body Fat Measurements
• Communication Skills for Interviewing
• Proper Training Techniques to Keep Physique in Top Shape
• Mental Focus and Self Preparation